What's The Best Chevy Car?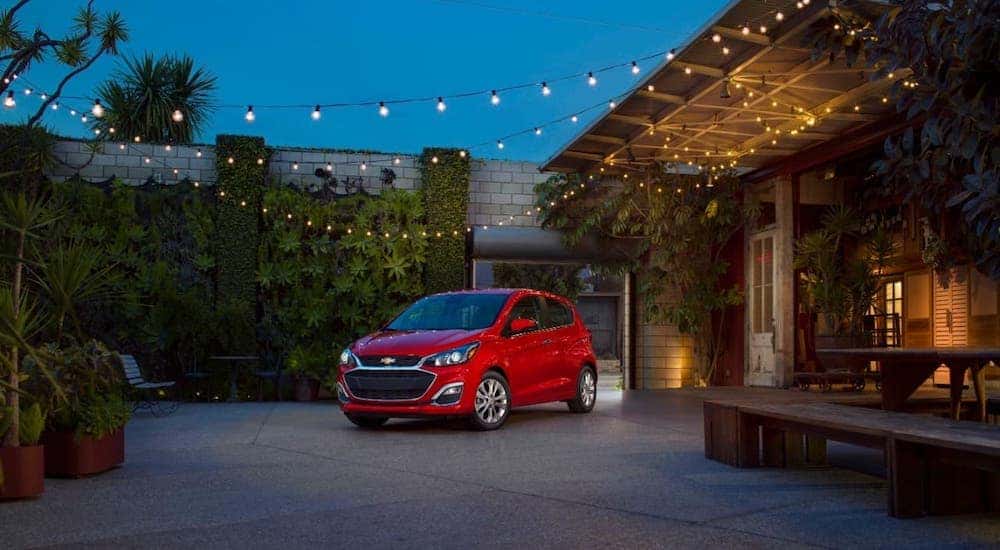 It's time to skip the nonsense and get right to it. You want to know, what is the best Chevy car? It's a valid question because there are endless choices when it comes to Chevy vehicles, and it can be quite overwhelming as you visit the car dealers in Buford, GA. How are you to know what to choose for your next Chevy car? There is no easy answer for that question as it depends on your needs, but without a doubt, you are in good hands here at Rick Hendrick Chevrolet of Buford. We know Chevy, and we can easily help you find the best Chevy for your needs. But to get you started, we've broken it down to different lifestyles and what's the best Chevy for each. Know this; there is no right or wrong answer. You can't go wrong with any Chevy car! Now, let's look at some popular Chevy models for commuting, family life, work projects, and overall flexibility.
Best Chevy For Commuting
If you're looking for a Chevy vehicle to fulfill your fast-paced work-life and commute into the city, one of the best Chevy cars for commuting is the Chevy Malibu. The best part about the Chevy Malibu is you can look and drive high class without a luxury price tag. There is a premium interior with top-of-the-line technology, all with a sleek exterior that's sure to turn heads everywhere you drive. The Chevy Malibu's excellent fuel economy makes it ideal for trips into the city on weekdays and trips out of town for the weekend.
Speaking of those weekend getaways, if you're the type that likes to let loose, then you'll love the Malibu's impressive performance. With an available 2.0-liter turbocharged engine, you'll be on your way to an exhilarating trip no matter where you go. Safety still comes first in the Chevy Malibu, though. The 2021 Chevy Malibu offers an impressive slate of safety and driver assistance technology features that help you navigate those busy city streets, congested interstates, and hilly country roads. The Chevy Malibu can help you do it all and is the perfect companion for commuting.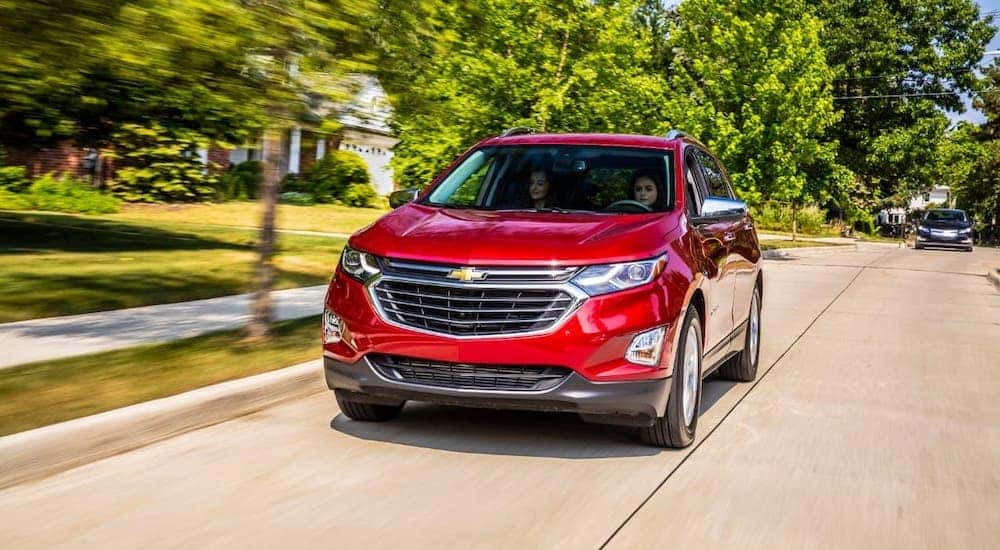 Best Chevy For Families
It's no secret that Chevy offers some of the top-rated SUVs in the industry. You have your choice from the subcompact Chevy Trax all the way up to the full-size Chevy Suburban. While all of the Chevy SUVs can work for families, the Chevy Traverse continues to be a popular choice for families, and for good reason.
The Chevy Traverse is the three-row midsize SUV of your dreams. It can seat up to eight passengers, and the 2021 Traverse boasts over 98 cu. ft. of cargo volume. A full-size SUV can be daunting for some drivers to operate on a daily basis, but you may still need a third row and extra storage. The Traverse makes all of those features possible in a more compact package. You get all the benefits of a full-size SUV without the extra-large size. It's amazing what the Traverse can accomplish with its size and still have best-in-class cargo volume in the 2021 model.
Another benefit of the Chevy Traverse for families is its affordability. The 2021 Chevy Traverse has an MSRP of just $29,800, which is nearly $20,000 cheaper than the full-size Tahoe. This budget-friendly SUV is just what large or small families need to navigate school drop offs, soccer practice, and family vacations at the beach. You will fall in love with the Traverse's technology, convenience features, and high-quality safety features. It's all wrapped up in an SUV that many families can work into their budget.
Best Chevy For Work Projects
One of the most iconic Chevy vehicles is the Chevy Silverado. It's one of the vehicles that makes Chevy known for high quality and strength. So it's no doubt that if you're looking for a Chevy truck for work projects, then the Silverado 1500 is your best choice. Both the midsize Chevy Colorado and the heavy-duty Silverado HD are great trucks as well. Still, we find the half-ton Silverado 1500 to be the most popular choice because it accomplishes most of the jobs truck owners are looking at.
The Silverado 1500 offers a slew of engine options, including a diesel, so you can find a Silverado that will meet nearly any needs and budget. Now for what really matters in a high-quality pickup truck, how does it handle hard work? The 2021 Silverado can provide up to 420 horsepower and 13,300 lbs of maximum towing. It's easy to find a Chevy Silverado that works for you, and you can be confident relying on your Silverado for any project you need to complete. Whether you have a physically challenging 9-5 job or have a long weekend to-do list, a Silverado will undoubtedly help you get it done.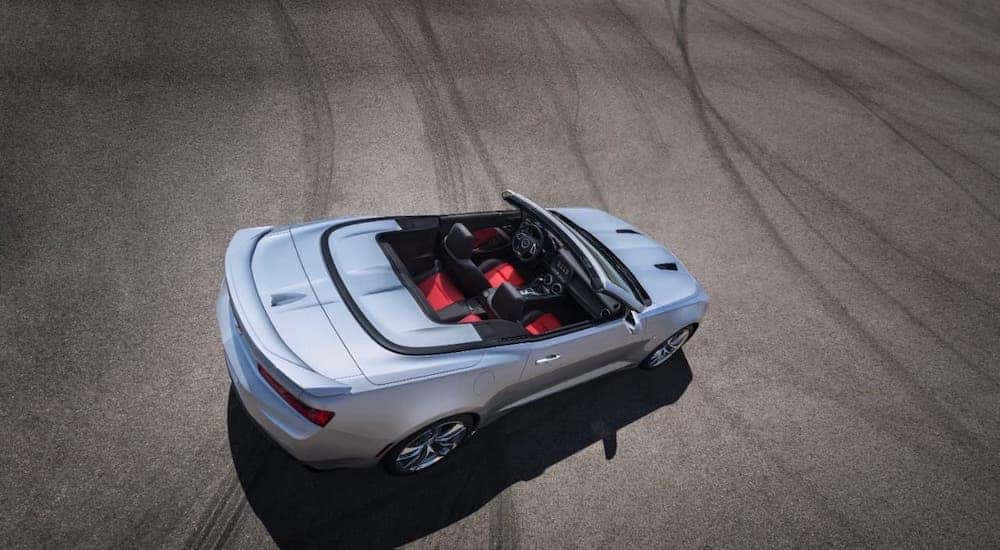 Most Versatile Chevy Car
We've covered some of the most popular specific needs our customers come to see us with. If you don't fit into one of these categories, or feel like you fit into all of these, then we have the perfect Chevy for you. The Chevy Equinox has long been an incredibly popular midsize SUV in Chevy's lineup. It offers unbeatable versatility for a price that's very attainable for the average family. If your life demands the most flexibility in a fast-paced environment, then the Chevy Equinox is the best Chevy car for you. Simply put, it can just about do it all and with great style inside and out.
The Equinox seats five passengers, and the 2021 Equinox offers nearly 64 cu. ft. of cargo volume. It also boasts an excellent fuel economy of 26 MPG in the city and 31 MPG on the highway. So if you're taking the kids to school, packing your car solid for an event, or headed downtown for work, the Equinox can do it all. The Equinox isn't just all work, though; it offers a wonderful suite of technology features that will keep the whole crew entertained, comfortable, and connected. In the 2021 Chevy Equinox, there are plenty of advanced safety and driver-assist features that come standard in every model. So while you do it all, you can rest assured that there's an extra layer of protection when you're on the road, parking, or reversing.
Find Your Perfect Fit
We don't think there is a simple answer to what's the best Chevy car because they all have their strengths and are designed for different needs. That being said, we feel confident these Chevy cars are great choices for specific daily needs you may have. For city commuting that doesn't require a full carload of passengers, the Malibu works perfectly because of its premium style and great fuel economy. Increased cargo capabilities, comfortable rear seating, and high powered technology and safety make the Traverse a confident choice for big families. When you have a lot of work to get done, the Chevy Silverado is the only truck that can work alongside you. Finally, if you're looking for a Chevy car that can give you great flexibility for your ever-changing life, then the Chevy Equinox is the perfect fit.
However, every driver's needs are different, and Chevy offers many more models and options to meet those needs. It's time to find the perfect Chevy for you, and the best way to do that is to visit your local Chevy dealer to take these vehicles for a test drive! Come visit us at Rick Hendrick Chevrolet of Buford, and our team will guide you every step of the way to finding your perfect Chevy.