The Best SUVs for Suwanee Families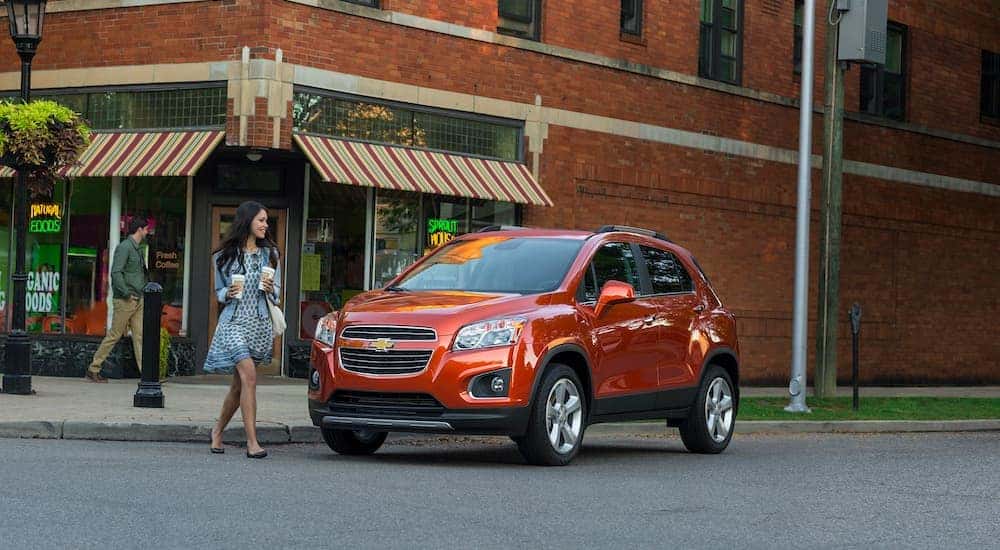 SUVs have become immensely popular over the past couple of decades, with a strong appeal shared by millions of drivers. This is, in part, due to their ability to handle almost anything the road throws at them. For example, SUVs can tow a small camper like a truck and are better equipped to handle adverse weather than a sedan. There is an SUV perfect for all kinds of drivers. If you're in the Suwanee, Georgia, area and are interested in used SUVs for sale, there are some great options for you to consider.
Suwanee is a beautiful city with a vibrant culture and some beautiful locales. As a city that dates back as far as the 1800s, Suwanee is a historical landmark and a must-visit location in Georgia. Suwanee is also only half an hour away from Atlanta, the home of the Braves. Whether you're looking to take a trip down to George Pierce Park for some recreational sports or take a trip down to Atlanta via I-85, we have recommendations that cover both cargo space and fuel efficiency.
Get More Done With a Used SUV
The first used SUV we recommend for Suwanee families is the 2014 Chevy Equinox. This model has a history that dates back to the mid-2000s and has been a fan favorite ever since. With the 2014 model, there are four trims you might find on a used car lot, starting with the LS and then followed by the LT, which consists of both the 1LT and 2LT trims. At the top of the list is LTZ, a trim that adds a dash of luxury to an already extraordinary package. The Chevy Equinox is a favorite for plenty of reasons; however, we admire the generous amount of cargo space it offers drivers.
If you happen to be a commuter with a small family, we recommend you opt for an SUV such as the 2016 Chevy Trax. With this model, you'll get excellent fuel economy ratings and save money overall with its overall low cost. This SUV is offered in three different trim levels, unlike the four with the aforementioned Equinox. The Trax's three trims are the LS, LT, and, lastly, the LT.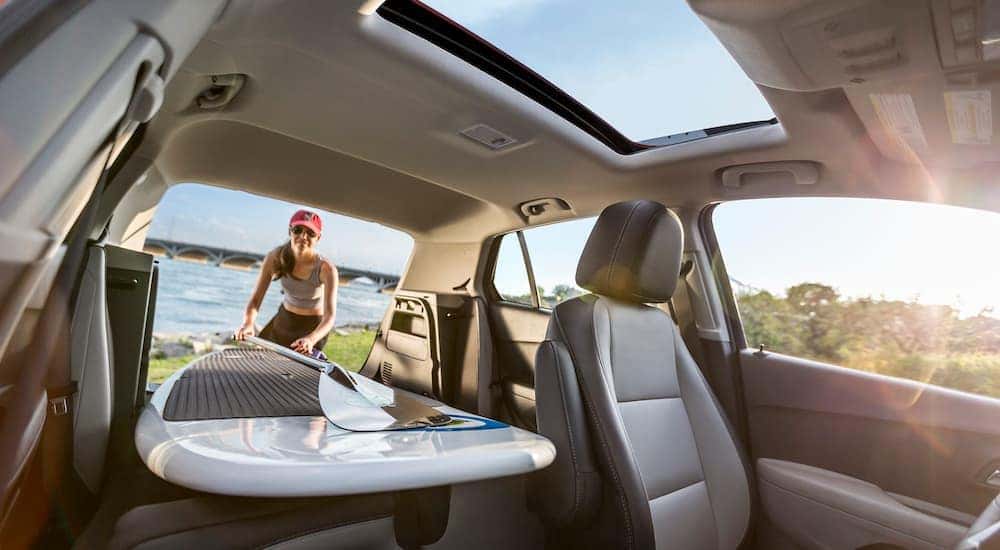 Performance & Fuel-Efficiency
As previously stated, the 2016 Chevy Trax is one of the best pre-owned SUVs that you can purchase today, and this is namely due to its admirable fuel-efficiency ratings. With the 2016 Trax, there is only one engine in the lineup, and it's a turbocharged 1.4L 4-cylinder that produces 138 hp and 148 lb-ft of torque. Paired alongside this turbocharged engine is a 6-speed automatic transmission with no alternative to choose from, although this won't be a concern for most drivers. Of course, for everyday travel such as around the city and or on longer road trips that involve highway travel, this engine performs suitably enough. This engine's strong suit is certainly its excellent EPA-estimated ratings of 26 MPG in the city and 34 MPG on the highway with a FWD configuration. Should you find an AWD variant instead, you won't have to worry about too much of a difference between the two models as it produces 24 MPG in the city and 31 MPG on the highway.
If you're looking for sheer performance with your SUV, then purchasing a used Chevy Equinox is a fantastic option. The 2014 Equinox is an excellent choice for its ability to blend both affordability and performance into a superb automobile. Unlike the previously mentioned Trax, which only offers a single engine, the 2016 Equinox offers two. These engines include a 4-cylinder and a V6.
The 2.4L 4-cylinder engine is paired to a 6-speed automatic transmission. This 4-cylinder can produce up to 182 hp and 172 lb-ft of torque. In addition to performance, the Equinox manages to compete quite well with the Trax in regards to fuel-efficiency. With this engine, the Equinox receives EPA-estimated ratings of 22 MPG in the city and 31 MPG on the highway. Opting for the V6 guarantees a substantial performance increase at the overall cost of fuel-efficiency. Its 3.6L V6 produces 301 hp and 272 lb-ft of torque with EPA-estimated ratings of 17 MPG in the city and 24 MPG on the highway.
Interior & Cargo
Both the 2016 Trax and 2014 Equinox support a maximum seating capacity of five passengers. Regardless of which SUV you opt for, you'll be pleased with the quality of the interior as it's a staple of Chevy's design.
Each vehicle manages to provide a comfortable ride for all five passengers, although the main difference between the two vehicles resides in the available cargo capacity. Let's say you're bringing some sports equipment to the city-favorite George Pierce Park; the Equinox provides more space to hold your gear with its 63.7 cu.ft. of space. The 2016 Trax offers many different storage areas throughout the cabin but ultimately provides less available cargo room overall with its 48.4 cu.ft. of available space.
The interiors for each vehicle is only further enhanced by their tech-centric features that aim to improve your on-road connectivity. Should you opt for the 2014 Equinox, it's worth mentioning that the available infotainment center is not present on the base model and is reserved for higher-tier trims. This infotainment center is displayed on a 7-inch screen and includes an array of functions. However, opting for the 2016 Trax will come standard with an infotainment center that matches Equinox's 7-inch screen size with the same functions intact. Both vehicles also include Bluetooth along with a rearview camera.
Although both vehicles include USB ports for charging and syncing wireless devices, only the 2016 Equinox has a 4G LTE Wi-Fi hotspot, another standard inclusion. Wi-Fi hotspots have become an increasingly popular feature that drivers seek as it allows for a safe and speedy network connection, perfect for anything life throws at you. The Equinox also includes Siri Eyes Free, allowing you to use voice-commands, including asking for directions to one of Suwanee's many hotspots such as Suwanee Town Center to see the Big Splash Interactive Fountain.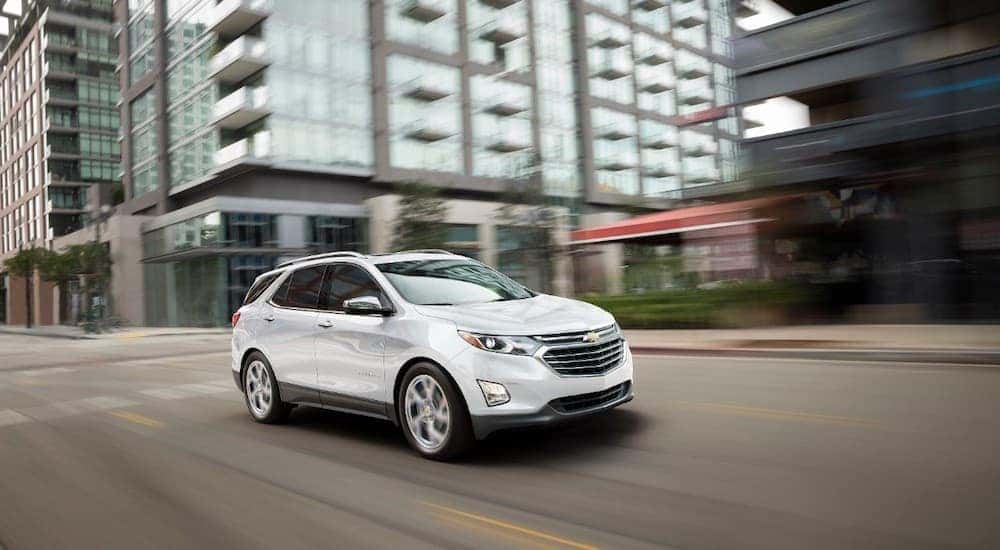 Buying Your SUV in Suwanee
Chevy's SUVs are constructed with an indistinguishable quality that remains unmatched in the automotive industry. This has been the case for many years, and because of this, you won't be hard-pressed to find reliable pre-owned Chevy SUVs as these vehicles are well regarded, even after a decade of use. Once you're ready to begin your journey as a Chevy driver, the first thing you should do is to find a local Chevy dealer with a reputation for great service, and we're that dealership. We're Rick Hendrick Chevrolet of Buford, and we're on a mission to provide our customers with top-notch service, which includes fan-favorite Chevy vehicles at competitive prices.
Our catalog of Chevy vehicles, which consists of SUVs, sedans, work trucks, and more, includes vehicles both of the new and pre-owned variety, so you will always be able to find the vehicle that suits you best. We have a team of sales representatives who are equally as passionate as they're knowledgeable, and our representatives are always at the ready for assistance. Our on-site finance center is available to any of our customers who require financing deals, and we also provide trade-value estimations for any potential trade-in.
In addition to our vast catalog of Chevy vehicles, we also provide an on-site service center where our certified mechanics work diligently to maintain or repair your vehicle. Once you're ready to get started in the world of Chevy, visit our location at 4490 South Lee Street in Buford, GA, across from CVS, and we're only 10 minutes away from Suwanee via Buford Highway NE.
We look forward to helping you find your perfect Chevy SUV.