What is the Most Powerful Diesel Truck?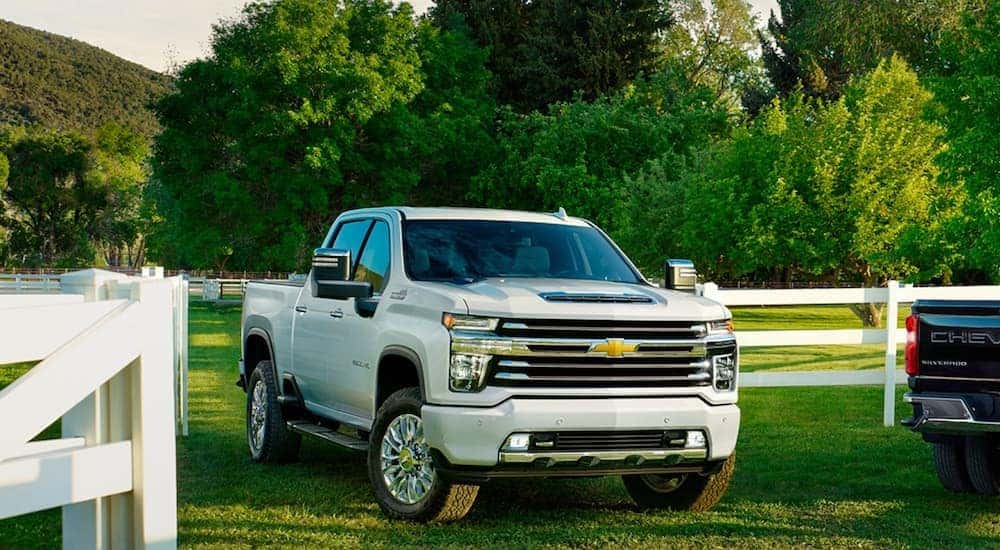 Chevy diesel trucks are perennially among the most prominent and recognizable brands in the heavy-duty automotive industry. In 2020 alone, several heavy-duty tier vehicles received generous upgrades, including Chevy's own heavy-duty diesel line, the Chevy Silverado HD. In this competitive year, the question of just which diesel truck is the most powerful often arises, and to that, Chevy seeks to offer its own affirmative.
2021 Chevy Silverado HD
Chevy's standout model of the new decade is the 2021 Chevy Silverado HD. It is the most powerful Chevrolet heavy-duty truck ever built. With five trims and two engine options, the Silverado HD meets every heavy-duty driver's needs. At the heart of the latest Silverado sits its available Duramax 6.6-liter turbo-diesel V8 engine alongside a 10-speed automatic transmission. The Duramax cranks out 445 hp and 910 lb-ft of torque, giving it an incredible 36,000 lbs maximum trailering rating.
Beyond performance, the 2021 Chevy Silverado gained upgrades in both aesthetics and durability. Its exterior options are complemented by steel reinforcement across its entire frame, including its cargo bed floor. That steel bed floor has been dubbed the Chevy Durabed, which offers the largest cargo bed capacity of any heavy-duty competitor and boasts leading functionality in its class. The Durabed includes 12 rear tie-downs and options for an available LED cargo lighting area and a 120-volt power outlet for electronics or power tools.
The Silverado HD's interior also received no shortage of attention in this year's edition. The Silverado HD has a class-leading 15 separate camera views to ensure the greatest ease when reversing, hitching, or simply general maneuvering on the road. A segment-fist ATS (Advanced Trailering System) allows for the seamless tracking of driver input information from trailering to driving. The Silverado's Advanced Trailering System can be accessed via the truck's infotainment system or through the My Chevrolet mobile app. Among the features included in the ATS are a pre-departure checklist, exterior trailer lighting diagnostics, trailer maintenance reminders, and tire pressure and temperature reports.
The Silverado HD offers an available 15-inch head up display which provides speed and navigation details without needing to take your eyes off the road. Other useful tech features include stability tracking with trailer sway control (dubbed StabiliTrak), separate modes for towing and hauling, digital variable steering assistance, and automatic emergency braking.
Chevrolet endeavors to stay at the cutting edge of convenience, including finishing touches such as its versatile standard trailering mirrors. These even include several lighting modes for various settings, such as fog and puddle lamps and perimeter lighting alongside its turn signals. You can also find built-in bed steps for easy access to your cargo and a snowplow-ready front grill with a removable skid plate and front air dam.
The Silverado HD's interior also boasts generous headroom and legroom to pair with its plentiful storage options and driver comfort technology. Driver and passenger safety technology is yet another area where the Silverado excels, with options for front and rear parking assistance, lane change alert, side blind zone alerts, and rear traffic cross alerts. Finally, the 2021 Chevy Silverado HD has a competitive starting price of $35,900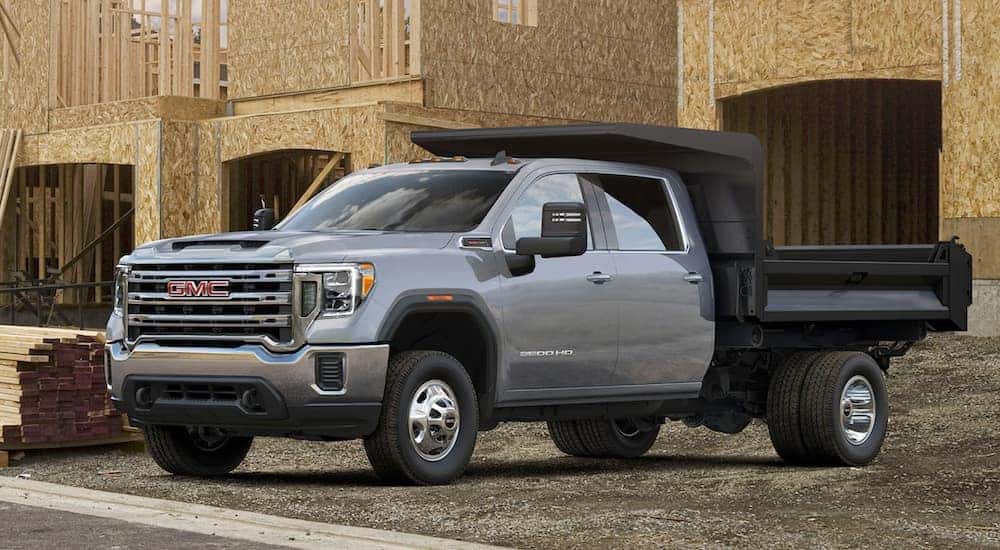 2021 GMC Sierra 3500 HD
In 2020, GMC gave its Heavy-Duty line a reboot with the Sierra 3500 Denali. The model saw improvements in both interior and exterior design. The result was a larger, more comfortable, and more capable offering for this year's fleet. Among the structural improvements were a strengthened frame and reinforced suspension components. Both were redesigned with newer, more efficient materials, contributing to an increase in both its load capacity and power output. The diesel-powered Sierra 3500 HD houses a Duramax 6.6-liter V8 that exerts 445 hp and 910 lb-ft of torque, alongside a ten-speed automatic transmission. These numbers let the vehicle withstand a payload of up to 7,442 lbs and bring its maximum towing capacity up to 36,000 lbs.
The Sierra HD also presents a wide selection of standard and optional features for various trims and specifications for the car. Among the standard features are the: "CornerStep" rear bumper, Digital Variable Steering assist, an Auxilary Trailer Camera, a Bed View Camera, HD Surround Vision, and GMC's "MultiPro" tailgate. The available options include a rear camera mirror and head up display. Overall the GMC Sierra offers a comprehensive package for the towing trailering and driving standards a heavy-duty diesel truck should have. However, despite offering similar features to the 2021 Chevy Silverado 3500 HD, the 2021 Sierra 3500 HD is noticeably more expensive. The GMC one-ton truck starts at $37,100, while the top Denali trim is a staggering $66,100.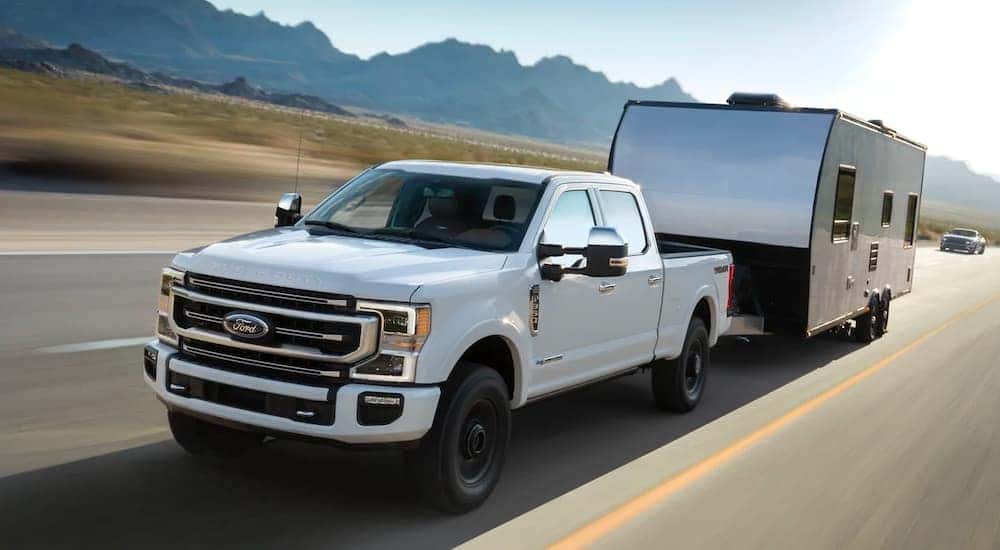 2021 Ford F-350
The Ford F-350 Super Duty remains one of the most recognizable names in the heavy-duty trucking industry. This year's efforts brought on increased performance and power output from the Super Duty. Its 6.7-liter Power Stroke diesel V8 engine produces 475 hp and 1,050 lb-ft of torque. But while those numbers are higher than those of the Duramax engine found in the Silverado 3500 HD, the Ford F-350 tops out at a lower 35,750 lbs of towing capacity.
The Super Duty also includes a number of convenience features. For instance, its collision detection system enhances awareness and complements the driver's senses on the road. Additionally, structural changes to the vehicle have improved its design and materials. Finally, its "Pro Trailer Backup Assist" system is designed to lessen the hassle of maneuvering with a trailer in tow, although experienced truckers may find this automated system to be more of a crutch than a useful tool.
The 2021 F-350 offers the Ford SYNC 3 voice-activated infotainment technology. The newly integrated FordPass is a native application, which allows drivers to track and earn points towards maintenance perks through regular management of the vehicle's status with the app. The 2021 Ford Super Duty also offers the Tremor Off-Road package with an integrated electronic winch. Located on the Super Duty's steel bumper, this electric winch has a 70-foot high-tensile synthetic line and 12,000 lbs of winching power. The Tremor Off-Road package is currently the only factory electric winch system in its class with wireless remote controls.
Both the Super Duty's 33 inches of water fording and its 35-inch tires are at the top end of its class. The 2021 Ford F-350 combines seamless user technology with a versatile design to bring a high level of capability to the heavy-duty diesel segment. However, while its $35,745 starting price is a couple of hundred dollars lower than that of the Silverado 3500 HD, the 2021 Ford F-350 Super Duty is also a bit less capable overall.
Which Diesel Truck is Strongest?
On the heavy-duty side of the automotive industry, the past year has seen some stiff competition from comparable models across different brands. However, the Chevy Silverado HD stands head and shoulders above the rest – not only in terms of power with its 36,000 lbs towing capacity but also in terms of technology and value. This truck offers the most innovative technology, safety controls, driver convenience features, and versatility for every purpose imaginable. But for all its features, the Chevy Silverado HD still maintains competitive pricing with the other vehicles of its class. That is what puts this truck at the forefront of the heavy-duty market for another production cycle. For more information about the latest Chevy Silverado, trims, options, servicing, and financing, contact the team at Richard Hendrick Chevrolet of Buford. We have answers to all your automotive questions.