The Future Now: Chevy Electric Vehicles
Electric vehicles have jumped from novelty to uncommon to mainstream in less than two decades, propelled largely by superior performance and practicality when compared to standard internal combustion engine-equipped vehicles. Chevy has been watching technology mature over the years and is now changing things up with electric conversion kits. This will allow car enthusiasts to convert their cars with gas engines to electric models. What is really generating buzz, however, are the rumors of future Chevy EV models coming down the pipeline.
Many of the rumors have already proven true, with the Bolt EV having arrived some time ago and GM's Ultima-powered GMC Hummer arriving soon. The excitement surrounding EVs makes quite a lot of sense. Electric vehicles are almost exclusively fueled at home overnight, with electricity being much cheaper than gas. This means that in practice, EV owners never need to stop to fuel their vehicles in daily life, all while enjoying increased performance through instant torque delivery and reduced maintenance through far fewer moving parts.
The Bolt EV can accelerate off the line harder than some of the muscle cars of yore, despite being front-wheel drive and based on the less than performance-oriented Chevy Aveo platform.
The future is here now, and more is coming fast.
The Bolt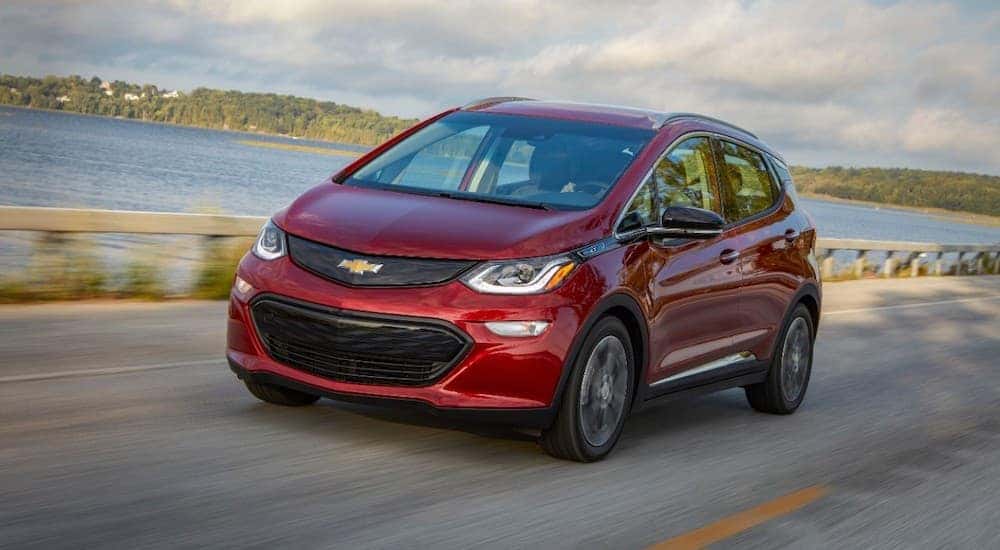 The Chevrolet Bolt EV debuted in 2016 and is a quick reaction by Chevy to the sudden capability of, and demand for, all-electric cars. The Bolt is built on the BEV II platform, which is a slightly modified Gamma platform used for General Motors small cars. The Bolt duly delivers in terms of both range and performance. It charges fast enough from a standard home outlet that doing normal daily driving with it is actually more convenient than with a standard car, as it eliminates fuel stops altogether. The vast majority of drivers would never need to charge it outside of overnight charging.
The recently released 2021 Bolt EV features a single permanent magnet motor producing 200 horsepower, with an EPA estimated range of 259 miles on a full charge. Despite being built on a small car platform, the Bolt EV is incredibly spacious on the inside, with large windows and a stylish interior. A full 56.6 cubic feet of cargo space is available with the rear seat folded down, meaning that while the Bolt may technically be a compact car, its interior space most certainly is not compact.
In terms of the engineering and mechanical aspects of the Bolt's powertrain, it has proven both reliable and surprisingly versatile. Electric vehicle powertrain components, like batteries, inverters, motors, controllers, and so on, generally require far less direct mechanical and fluid connections than standard gas engines. This means that, as a manufacturer, placing, swapping, removing, and adding components is about as easy as putting together a Lego kit. Those plug-and-play qualities make Chevrolet's electric drivetrain especially interesting for aftermarket applications.
Future
Moving forward into the very near future, the immediate next step for Chevrolet EVs will be making electrification kits available for both daily-driver projects and high performance builds. As shown in the eCOPO Camaro and the K5 prototype, the first wave of these kits is already developed. Installers are currently being certified by GM to have the kits installed into customer vehicles.
The lower end kits are essentially Bolt EV powertrains, with 90% Bolt EV parts. These kits can easily and cleanly replace the standard engines in just about any vehicle. They take advantage of the Bolt EV part's modularity to make electrifying older vehicles a surprisingly painless process.
Higher-end performance kits will take inspiration from the eCOPO Camaro, a nine-second fully electric drag car packing 700 horsepower that was unveiled in the now distant-sounding 2018. The system's maximum power potential is said to be pretty much limitless, no doubt helped by the fact that electric motors and batteries can very easily be engineered to run in tandem.
The overall initiative for these electrification kits is called Electric Connect and Cruise, an offshoot from the existing Connect and Cruise branding that accompanies traditional crate engine sales and setup.
While the program is in its infancy, the potential it has already exhibited through classic vehicles like the E-10 Concept and K5 Blazer-E is staggering. Forthcoming upgrades to the Electric Connect and Cruise options list include GM's new state of the art Ultima batteries.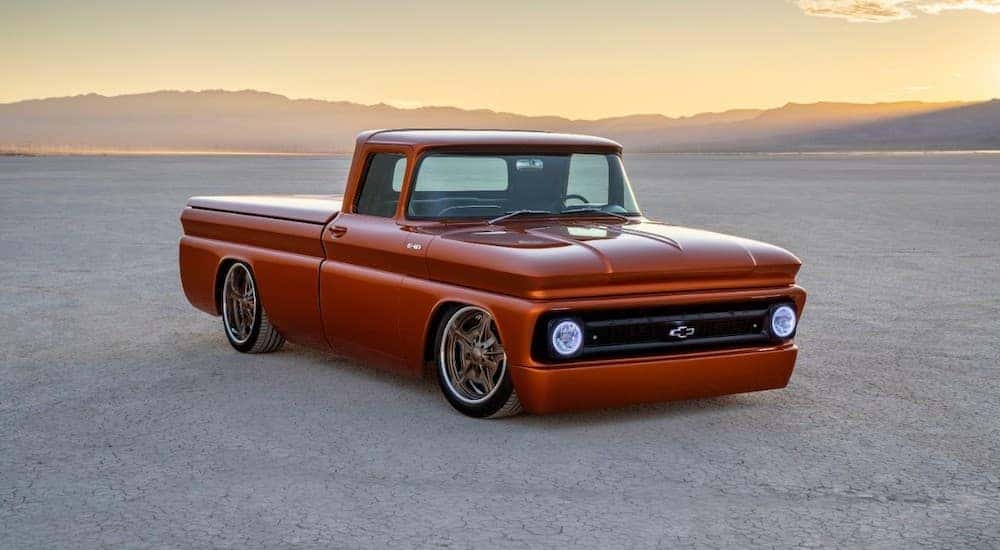 Ultima batteries form General Motors first serious effort to build high-performance lithium-ion battery packs, and the initial results are promising. What makes the Ultima packs competitive is that they are built to be modular, similar to how the Bolt EV technology turned out. This means that substantial extra capacity can be added simply by adding more battery packs. While simplistic, it does the trick.
Just how thoroughly it does the trick is demonstrated in the upcoming GMC Hummer. The inbound Hummer's multiple motors and Ultima batteries are capable of accelerating the massive SUT's multi-ton bulk to 60 miles per hour as fast as a late model Corvette ZR1. Not to mention the stacked Ultima batteries providing the hulking truck 350 miles of range.
All of this is in addition to the various other impressive features and capabilities the Hummer can bring to bear, including four-wheel steering that allows for shocking maneuverability in tight spaces. The new Hummer showcases that the freedom provided by an electric architecture allows space for extra features not commonly seen, like the ability to lift the suspension six inches on the fly for better terrain clearance.
A feature not necessarily tied to electrification that looks likely to be seen on many Chevy EVs is Super Cruise, a broad and deep suite of driver-assist systems that enable semi-autonomous driving. This is a supreme luxury that should not be underestimated, especially when coming home late from a faraway destination.
Further out, Chevrolet has made bold promises and statements about massive electrification sooner than later. This includes plans for dozens of models that cover the gamut of budgets and purposes, from crossovers to sports cars to trucks and beyond. GM recently announced their first all-electric plant in Detroit, christened Factory Zero. While only time will tell what's in store, the future has never been brighter.
The Future Is Almost Here
General Motors, and by extension, Chevrolet, has committed to building large numbers of EVs as soon as is practical. They have already released the Chevy Bolt EV, a solid entry in the lower end of the electric car market. But while the Bolt works well as a practical and surprisingly spritely daily commuter car, GM has much bigger plans.
The first parts of these plans to come to fruition are going to be the Electric Connect and Cruise options. These kits include many parts used on the Bolt EV and are easily put together and installed.
The next generation of Chevy EVs will use the Ultima battery technology, which includes massive numbers of lithium-ion battery cells that can be used on platforms to produce upwards of a thousand horsepower and 11,500 lb-ft of torque.