Our Top Five Family-Friendly Places in Suwanee, GA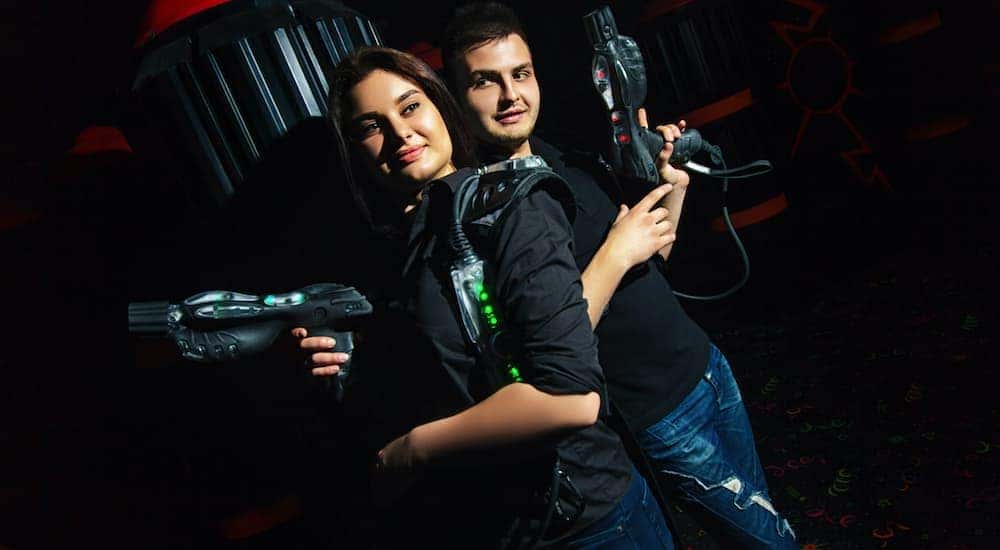 Due to current health concerns, please be aware locations may have restrictions.
Suwanee, GA, is a wonderful place to raise a family since it has wonderful elementary schools and is only a short drive from several parks and outdoor recreational facilities. There are so many things to do and see, and each place offers families a unique opportunity to create fond memories that will last their kids a lifetime. However, with so many options, it can be difficult to know where to start. That's why we've put together this list of our five favorite family-friendly destinations for residents (and visitors) of Suwanee, GA.
Main Event Entertainment
First, let's take a look at Main Event Entertainment. Whether you've got one kid, six kids, or you're merely a kid at heart, you have got to check out Main Event. Main Event Entertainment is a popular all in one fun center with multiple locations in Georgia, including one in Suwanee. If your kids have moved beyond the preschool stages and are ready for some older kid fun, they'll probably get a kick out of Main Event.
Adrenaline loving adventurers can enjoy the unique ropes course, locally known as gravity ropes, which allows guests to walk across tightropes and traverse swaying bridges, all while they are safely suspended 20 feet in the air. Ropes courses are a good way to stay active and physically fit while also engaging certain problem-solving sections of the brain. And of course, learning how to face and overcome fears, including the fear of heights, is something that will last kids a lifetime. The rock climbing wall also offers guests an adrenaline-inducing activity.
For less adventurous souls or those who have had their fill of heights for one day, billiards and mini-golf offer guests simple yet sporty playtime fun. Challenge your mind without working up a sweat (or at least not too much of a sweat). You can play with small teams or large teams, so it doesn't really matter how large or small your family is, as long as you're willing to share. Main Event also offers arcade games, including ever-popular virtual reality games (such as Beat Saber). Finally, Main Events Food & Bar ensures you don't have to go home just because you're hungry, ensuring you and your family can stay and play for as long as your hearts desire.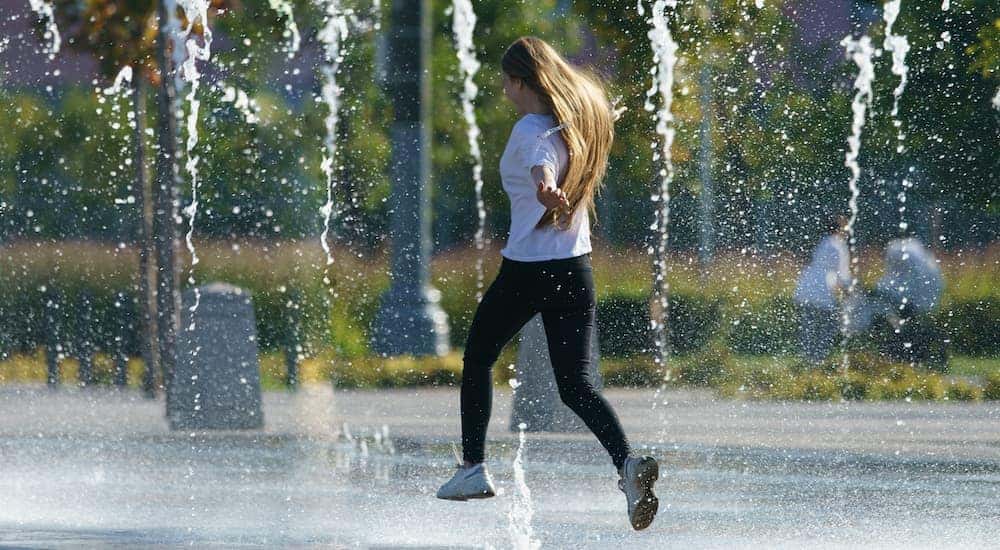 Town Center Park
For families with younger kids or families who are looking for less expensive family fun activities, take a look atSuwanee's Town Center Park. This 10-acre park offers families a lot of opportunities for fun. In the warmer months (which we get a lot of down here in Georgia), wash away your worries with the Big Splash Interactive Fountain (aka splash pad).
The splash pad is free for all guests, so feel free to come whenever you want and stay for as long as you like! Bring the kids and let them splash away while you lounge on a blanket in the grass. This is a great place for kids to cool off and burn up some energy at the same time.
Town Center Park is within walking distance to many houses and townhomes in Suwanee, as well as to many shopping and retail options. Suwanee's Town Center Park also draws in crowds from all over Atlanta with regular shows and events, such as rock concerts or the ever-popular annual Suwanee Fest. There is something for every member of the family at Town Center Park.
Buford Dam
While not officially in Suwanee, Buford Dam Park still offers Suwanee locals a chance to get out and play without having to travel too far. Buford Dam is a short 20-minute drive from Suwanee, which means it's close enough to visit for just a few hours or for the whole day. Buford Dam Park is located on the southern end of Lake Lanier. The park offers visitors a chance to play on a freshwater beach and has several available pavilions for groups to sit and eat, or even celebrate a birthday!
When you're ready to get in the water, Lake Lanier offers guests the chance to enjoy some boating, wakeboarding, and canoeing. Outdoorsy families can go fishing on the lake and even camp along its shores for a couple of nights away from it all. And of course, swimming is a must for anybody who visits the lake.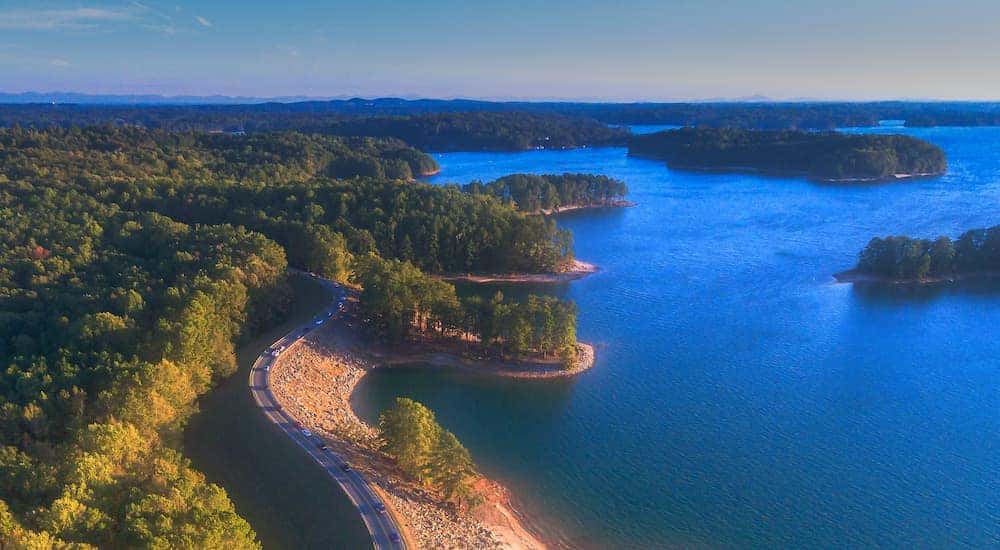 Sims Lake Park
If you prefer to stay closer to home, Sims Lake Park is a 7-acre lake located directly in Suwanee. Unlike Buford Dam, Sims Lake Park welcomes leashed pets, so families don't have to leave their furry pals at home. Sims Lake Park features a child-friendly playground and a 1.2-mile paved loop trail that is perfect for walking, jogging, or riding wheeled toys with the kids. This park also has a streamscape built-in that adds beautiful water views and sounds to your family time.
When visiting Sims Lake Park, you also have access to the free pavilion (which operates on a first-come, first-serve basis) and lakeside docks for some on the water fun. Bring your own boats and enjoy some water and sunshine, then bring it in and enjoy a picnic at the pavilion. Kids of all ages, including furry kids, will have a blast at Sims Lake Park. Just make sure you bring a lifejacket if you're going to be on the water!
Old Atlanta Rec Center
If your kids are looking for more structured activities, check out the Old Atlanta Rec Center? Besides the typical rec center amenities such as the fitness center, walking track, and community room, Old Atlanta also offers families the chance to get their kids involved in the community with classes and camps. Throughout the year, you'll have the opportunity to sign your kids up for fun camps such as STEM camp, martial arts, and gymnastics, and more.
You can sign your kids up for tree climbing classes and zip-lining programs, or you can put your kids through basic first aid or babysitting courses. Specialty events such as woodcarving classes or phone calls with Santa are also available. Finally, the rec center also offers kids the chance to sign up and play on traditional sports teams. There's something for everyone at the rec center.
If you're looking for a place to hold a birthday party, Old Atlanta Rec Center also offers this service to locals. You can choose from three themed party options, including animals and nature, climb and zip, as well as amazing adventure games. Each of these party theme options are hosted by a staff member, so you don't have to worry about entertaining all your kids' friends. All you have to do is show up and watch your kiddo have the time of his life!
Family Life in Suwanee, GA
Suwanee is a good place to raise a family because with Atlanta only a short drive away, you're close to everything, but at the same time, you have the benefit of a quiet suburban life. There are many opportunities for family fun adventures right here, along with several options for dinner and shopping.