2024 Chevy Silverado 1500 EV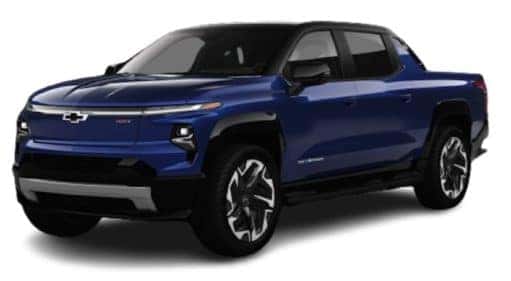 Starting at
$39,900*
2022 Ford F-150 Lightning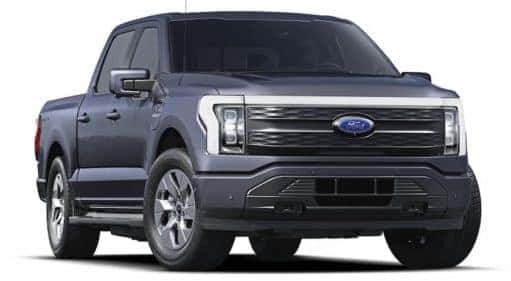 Starting at
$39,974
| | | |
| --- | --- | --- |
| 510-664 | Horsepower (hp) | 426-563 |
| 615-780 | Torque (lb-ft) | 775 |
| 400 est. | Range (mi) | 300 est. |
As America transitions from gas power to fully electric vehicles, full-sized trucks are now heading into the fray. Chevy recently revealed the much-anticipated 2024 Silverado EV based on GM's new Ultium platform, and Ford is now taking orders for the 2022 F-150 Lightning. Though these two automakers aren't the only ones to build electric trucks, they are two companies expected to deliver trucks more affordable for the masses. If you're in the market for an electric truck, you may appreciate a run-down of features that compare the 2024 Chevy Silverado 1500 EV vs 2022 Ford F-150 Lightning.
As these trucks begin to roll out, trim levels will likely expand. But currently, Ford has four available trims for the Lightning, starting with the basic Pro work truck, then moving into the XLT, Lariat, and Platinum trims. Chevy has only begun releasing information about the new Silverado EV, so the only trims revealed are the entry-level WT to begin sales, followed by the later release of the premium RST trim. To be expected, the entry-level trims in both trucks are dedicated to fleet use. Unique storage options in electric vehicles are making their debut with features like front trunks and larger center consoles, though Chevy seems to be offering better storage solutions than Ford in its EV truck.
The 2024 Silverado EV will have a front trunk that's lockable and can be accessorized with outlets and cargo management options, particularly for the WT trim, and the RST trim will feature a modular console that Chevy states has up to seven gallons of storage space. Chevy is also making available a Multi-Flex Midgate that can fold down much like the rear seat of an SUV, extending the bed into the rear seat area. This space allows up to nine feet of cargo space, which expands to over ten feet if the Multi-Flex Tailgate is added. Ford offers its own front trunk with a dedicated space for use as a cooler, and it can be optioned with household-style outlets as well. But that's the extent of the storage for the Lightning, and the bed length is also shorter at only 5'6" compared to the Silverado EV's 5'11".
Pure Power

Charging Options
Operating on electric batteries that power two electric motors, the electric trucks from both Chevy and Ford promise to be powerhouses of capability and range. Charging options are available for home and travel to make owning an EV easier, though one network is not the same as another. In the case of the 2022 F-150 Lightning, Ford offers its own Blue Oval Network for charging while you travel, a network of fast-charging stations that's 19,500 strong. Compare that to Chevy's network of over 40,000 DC fast-charging stations, and buyers of the 2024 Silverado EV will have more than double the charging options on the road. At home, rapid charging requires the installation of a 240-volt charger for either truck, but Chevy has made clear that buyers of the Silverado EV will be able to charge using standard 120-volt household outlets as well.
Mobile Power
A nice feature offered for both EV trucks is the option to utilize battery power from your truck as a generator. Ford has its Pro Power Onboard system, which offers up to 9.6 kWh of available power with eleven outlets placed throughout the truck. This system is available only for the XLT trim and up, though it does give a lesser version of this system to the Pro trim with 2.4kWh of power. Similar to the Lightning, the Silverado EV can be optioned with its Power Bar that offers up to 10.2 kWh of power with ten outlets in different locations around the truck, slightly more than the Ford. This feature also allows for the truck to power your household in case of an outage in both trucks, provided you have the correct equipment installed or purchased.
Range, Compared
Where the Ford Lightning seems to be most lacking in comparison to the Chevy Silverado EV is in driving range. Chevy has stated the Silverado EV will have 400 miles of driving range with its available battery packs. Ford starts most Lightning trims with 230 miles of driving range, and the Extended Range battery pack with its 300 miles of range comes at a steep price of tens of thousands of dollars.
Raw Capability

Work-Ready
One thing that comes with electric vehicles is incredible capability for speed and towing. Both the 2024 Chevy Silverado EV and the 2022 Ford Lightning have a maximum tow rating of 10,000 pounds, and even the entry-level versions will offer 8,000 pounds for the Chevy and 7,700 pounds for the Ford. Later, Chevy has stated a version of the WT trim will be released with a 20,000-pound towing capacity, an astonishing upgrade not available with the Lightning.
Power and Acceleration
Each truck is powered by two motors placed near both the front and rear axles, and battery packs are installed low in the trucks to help provide stability and to ensure the interior space isn't taken up by battery storage. In the 2024 Silverado EV, the WT trim will have 510 hp with 615 lb-ft of torque, and the RST will have up to 664 hp with 780 lb-ft of torque.
Ford Lightning trims will come standard with the lesser range found in the Pro trim, which makes 426 hp with 775 lb-ft of torque. To gain more power, the extended range battery is required, which only comes standard on the uppermost Platinum trim. With this option, the Lightning can make up to 563 hp with the same amount of torque as the standard battery.
Both trucks will be quicker than seems possible with such massive vehicle sizes and weights, but electric power delivers instant torque and acceleration. Going from zero to 60 in about 4.5 seconds is possible for both trucks. Another similarity is that both trucks feature an independent suspension system that improves ride quality and handling, and both come with standard all-wheel drive.
Handling and Hands-Free Driving
Chevy is offering Four-Wheel Steering for the Silverado EV, which makes for a smaller turning radius and aids in parking duty at low speeds, then improves handling and stability at higher speeds, particularly when trailering. Ford offers a number of trailering technologies for hitching and driving in reverse, though the Onboard Scales feature is probably the most innovative with the ability to estimate payload weight so you don't overload your truck.
An exciting feature both trucks will offer is semi-autonomous driving which can help reduce fatigue on long trips. Chevy's feature is called Super Cruise and can be used on over 200,000 miles of roads in the US and Canada. Super Cruise can also be used when trailering, a feature lacking in Ford's semi-autonomous Blue Cruise. Sadly, Blue Cruise only offers up to 130,000 miles of available highways in North America.
Technology of the Future

Enhancing the Driving Experience
When going fully electric, vehicles can be outfitted with impressive technology to improve the driving experience, bring more choices for connectivity and entertainment, and provide more convenience. The 2024 Silverado EV incorporates a number of exciting technology features that begin with ease of entry. No buttons need to be pressed to enter or start the Silverado EV, which will sense the fob or enabled smartphone linked to its system and display a welcome animation in the exterior lights and on the infotainment screen. With the hands-free start feature, the Silverado EV automatically turns on, so the driver only needs to buckle up and put the truck into drive.
Ford offers its own welcome animations and ease of entry to the 2022 Lightning, though a hands-free start feature is not one of the truck's capabilities. Buyers will be able to pair smartphones with the Lightning so they can be used in place of fobs, much like the Silverado EV. Another shared feature is the capability of each truck to "evolve" through the way users interact with their trucks. Each manufacturer offers its own cloud connectivity, which provides automatic updates for software, and the system in each truck will customize functions around how the truck is driven, routes are commonly taken, types of entertainment often chosen, and more.
Expanded Infotainment
Where Chevy offers extra infotainment is in the screen size, which begins at a standard 12 inches and enlarges to 17 inches in the RST. Ford gives the Lightning a screen size of 15.5 inches at its largest, with the standard touchscreen also 12 inches. Both trucks will have options available for trip planning and customizing apps in the infotainment system. Ford offers its FordPass Connect, which pairs an app on your smartphone with the truck to assist in route planning and check systems on the truck remotely. Chevy has its own app for similar features but also offers Google built-in features like Google Maps, Google Assistant, and Google Play to make travel easier. The familiarity of Google products is likely to make using the infotainment system much simpler for most buyers, a plus for those who choose the 2024 Silverado 1500 EV.