2020 Chevy Corvette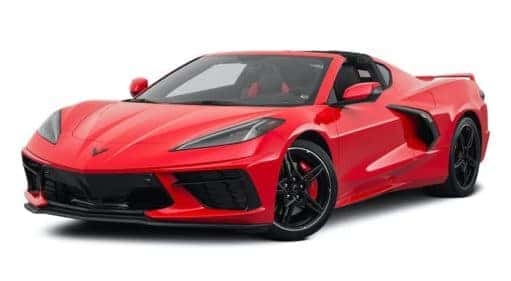 Starting at
$59,995*
2019 Chevy Corvette

Starting at
$55,900*
| | | |
| --- | --- | --- |
| Mid-Engine | Engine Placement | Front-Engine |
| 490 | Horsepower (hp) | 455 HP |
| 465 | Torque (lb-ft) | 460 |
| Less Than 3.0 | 0-60 (sec) | 3.7 |
Sports cars push the envelope in terms of what we should expect a car to be able to. Streamlined with performance and speed in mind, and often equipped with a robust engine, there is nothing quite as thrilling as sitting behind the wheel of a top-of-the-line sports car. There are several automakers out there who specialize in the sports car. Some of these vehicles may seem more fit for the race track than the slow speed limit of 70 mph you'd see on a stretch highway. That said, one of the legends in the industry is the Chevy Corvette. Since the mid The 1950s, the Chevy Corvette has been a champion of performance, and have continued that promise ever since, Both the 2020 Chevy Corvette vs 2019 Chevy Corvette strive to extend that same promise. Although, between the latest iteration, and last year's model, it's fair to ask which of these sports cars lives up to this decades-long promise the best.
Performance

2019 Chevy Corvette
When you get behind the wheel of a Chevy Corvette, you'll find a simply remarkable performance experience. The engine build in every model is impressive, designed to create the most thrilling and heart racing driving experience possible. The 2019 Chevy Corvette lives up to this expectation while jumping from the gate with the 1LT 6.2-liter V-8 engine packed beneath the hood of every base model. This beefy engine delivers a stellar 455 horsepower, and giving this zippy sports car the ability to roar from 0 to 60 in as little as 3.7 seconds. Drivers will find that the automatic transmission is a little lighter on their feet than the manual. Just remember, regardless of which transmission you go with, you'll be impressed with what's offered at the entry-level.
There are five different models to choose from, including the Stingray, Grand Sport, Z06, Z51, and ZR1. While you may find that this base engine is next-level impressive, the 6.2-liter is only the beginning. Take the Z06 trim option which is partnered with a 6.2-liter LT4 V-8 engine that seamlessly turns fuel into 650 horsepower and 650 lb-ft worth of torque. Marginally faster than its little brother, the Z06 does the 0 to 60 sprint in as little as 3.2 seconds in the manual and 2.95 seconds in the automatic transmission.
Things hardly stop there, with Chevy offering the LT5 supercharged 6.2-liter V-8 engine in their ZR1 trim option. The beefiest of the engines in the 2019 Chevy Corvette, drivers will find around 755 horsepower and 715 lb-ft worth of torque at their near-immediate disposal. This punchier Corvette can reach 60 in as little as 2.85 seconds and can reach top speeds of 212 mph. So, as you may have noticed, the top trim 2019 Chevy Corvette is more of a supercar than a sporty coupe.
All that said, this was last year's model. With the 2020 Chevy Corvette now on the road, it only makes sense to see how Chevy capitalized on last year's model.
2020 Chevy Corvette
As can be expected of this next-level supercar, the 2020 Chevy Corvette does not hold anything back in terms of performance. While the news is still leaking about the 2020 Chevy Corvette, we already know a lot of what to expect from this top-dog performance care. But we can't talk about the 2020 Corvette without mentioning the engine move. The engine in the 2020 Corvette sits in the rear middle of the car, instead of upfront under the hood. This will bust performance numbers. What we know the base engine is expected to be a similar 6.2-liter V-8 engine that is found in the previous model. Although it's worth noting that this powerful V-8 is the only engine option your getting. Outputting around 490 horsepower, Chevy claims that their top of the line sports car will be able to go from 0 to 60 in under 3 seconds; which is quite a claim all things considered. Albeit, this jaw-dropping performance can only be found once you've purchased the Z51 performance package. That said, an engine of this capacity is sure to equate to high speeds and responsive acceleration.
Speaking of the Z51 performance package, drivers who splurge will be able to enjoy features that help this sports car perform far better on the track. Add-ons like electronic limited-slip rear differentials, revamped brakes and a set of track-ready summer tires make this top-performing sports car a true show stopper.
One thing worth noting of the 2020 model is that Chevy plans to drop the manual transmission option. Instead, drivers of the 2020 Chevy Corvette will only be able to enjoy an electronic 8-speed dual-clutch automatic transmission. But the transmission system can be manual thanks to paddles shifters on the steering wheel.
We don't know everything about this mid-engine sports car just yet, but with the starting engine being able to produce 495 horsepower with the performance exhaust, we like it so far.
Interior

2019 Chevy Corvette
The Chevy Corvette has never been designed to be particularly roomy, and modern iterations seem to continue that trend. However, it is important to note that this is hardly an issue. As for owners, carting passengers and cargo from point A to point B, that's not the intended purpose of the Corvette. The 2019 Chevy Corvette, like most other models before it only seated two passengers, however, it does so brilliantly.
What the Chevy Corvette may lack in spacing, it certainly makes up for in incredibly luxury comforts. Drivers of base models of the 2019 Chevy Corvette will find an eight-way power-adjustable driver's seating, accompanied with a standard power tilt/telescopic steering. Other comfort features include the Competition Sport seats, that hug the body like a glove, and an 8.0-inch infotainment touchscreen that is Apple CarPlay and Android Auto compatible. Top trims of the 2019 Chevy Corvette only push the envelope further. With Napa leather upholstery, heated and cooled seats, a microfiber-covered dashboard, and of course Chevy's Data Recorder which gives you detailed readings of your vehicle's current performance.
2020 Chevy Corvette
While we are still learning more about the 2020 Chevy Corvette, we do know that in terms of interior comforts, things will be bumped up a bit. Bumped up is the best phrase to use because the 2020 Corvette's front interior has been pushed forward for the engine to be able to sit in the middle of the car. The driver will have a better look at the road in front of them as well. The base model of the latest Chevy Corvette will sport a 12-inch instrument cluster that can be customized to your liking. An infotainment system that provides drivers with real-time traffic information is also included. Base models will sport a wireless charging pad, as well as a Bose audio system.
Of course, when you step up to the Z51 package, driver's can expect more performance-focused features. For instance, add-ons, like the Performance Data Recorder combines with a refined suspension, larger brakes, and a performance-grade exhaust, are expected to make for a drive that is truly breathtaking.
Safety 

2019 Chevy Corvette
What the 2019 Chevy Corvette brings in performance and configuration, it lacks in terms of safety technology. As other vehicles make the move of adding active safety as standard, features found on base models don't exist anywhere in the 2019 Chevy Corvette's trim lineup. While you'll find a rearview camera, seatbelts, and plenty of airbags, don't expect anything more than the basics.
2020 Chevy Corvette
For the 2020 Chevy Corvette, it's clear that Chevrolet got the memo, and has moved to include a slew of active safety features bringing this supercar into the future. Chevy pulled out all the stops for their 2020 model, including things like rear cross-traffic alerts, side blind zone alerts, an HD rear vision camera, a rear camera mirror, and rear park assist. While far from the slew of features you might find on other vehicles, this added tech is certainly an improvement on last year's model.